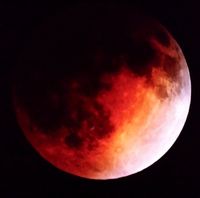 This lunar eclipse 
Like a midnight sunset 
Mixing the dawn with the dead of the night 
Burning the moon 
With crimson and passion 
Like the beauty of magic 
That's predicted by light.
The universe is moments like these
When everyone stops 
just to sit in the darkness
And all look together at once special thing
For which we cannot touch 
But we know to believe.
How far we've all come 
And oh how far we will go
Cause we'll always come back together 
To watch something glow. 
- Love you all,
Katie